Bollywood actress Kangana Ranaut's Thalaivii, is based on the life of veteran late actor-politician Jayalalithaa, is all set to take over the silver screen on September 10.
Ahead of that, many movie critics and celebs have watched the film at the screening. The film attempts to capture her journey from being an actress to a politician. It also shows Jayalalithaa's personal life and her relationship with MGR and more.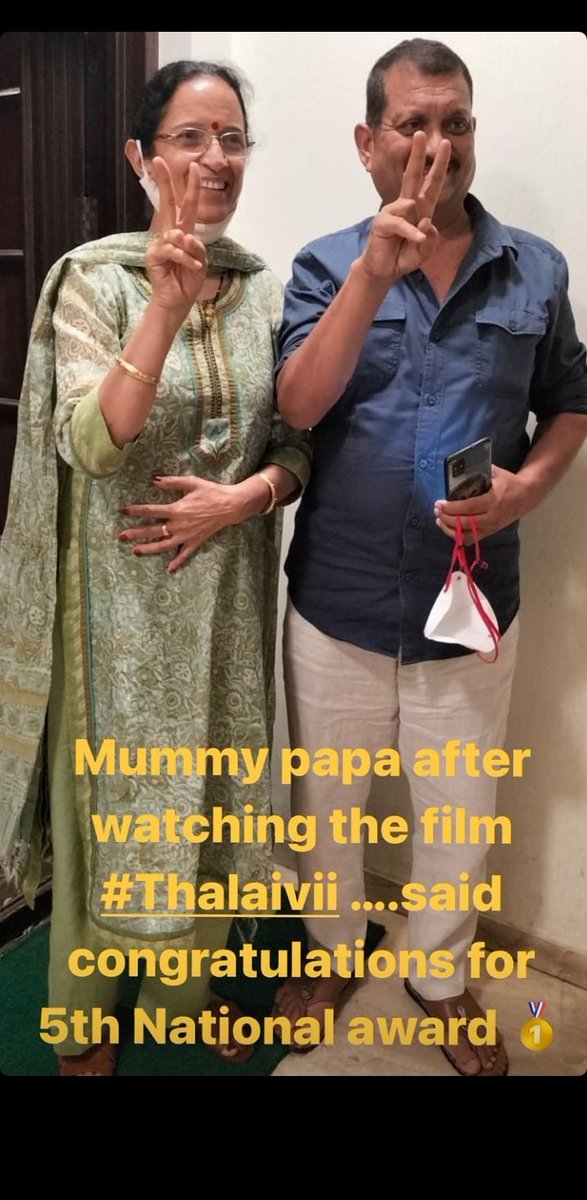 Many said Kangana would be the first actor in the history of Indian cinema to have bagged the prestigious award five times. Social media users are saying that she will win her 5th National Award. Kangana Ranaut herself shared the news on her Insta story along with an image of her proud mother and father and captioned it: "Mummy, papa after watching the film #Thalaivii ...said congratulations for 5th National Award."
Today, the actress took to her Insta page and requested her fans and followers to watch the film, "Two years ago, I embarked on a journey to play one of India's most iconic women onscreen. There were many obstacles and challenges in our way, but what kept me and my team going was the passion for Jaya Amma and Cinema. This Friday, our film will finally reach its audience, do give it a chance in a theatre near you. I am already overwhelmed by the glorious reviews for the film and simply can't wait for the public to see the film. Advance bookings are now open, book your tickets and enjoy the legendary Story of Amma Jayalalithaa on the big screen❤️"
#Thalaivii- 4/5 The racy second half is full of mass moments and this magnum opus turns out to be an overwhelming cinematic experience. Hats off to the team #KanganaRanaut @thearvindswami @gvprakash @vishinduri @BrindaPrasad1 Go watch this in theatres near you! pic.twitter.com/v90sDhUgJy

— sridevi sreedhar (@sridevisreedhar) September 8, 2021

Besides Kangana, the film also has Arvind Swami as MGR, Raj Arjun as his close aide, and Nassar as M. Karunanidhi. These actors have also got praise from the critics for their performance in the film.
Actor Arjun Rampal lauded Kangana, he wrote, "Just watched #Thalaivii it's phenomenal.Such a difficult film to make,wonderfully handled by Vijay.The whole cast is excellent. The transitions thru period effortless. @thearvindswami is brilliant. @kanganaranaut gives it her all and what a performance she has given. Incredible. No spoilers."
Prasoon Joshi a poet-songwriter also talked about Kangana's performance in the film, he wrote, "Authentic intense and graceful What a powerful performance by Kangana in #Thalaivi ,she truly tapped into her inherent core energies. Arvind was brilliant and added layers . A genuine piece of work by Vijay,Vijendra prasad ji and the team. Best wishes." (SIC)
Authentic intense and graceful What a powerful performance by Kangana in #Thalaivi ,she truly tapped into her inherent core energies. Arvind was brilliant and added layers . A genuine piece of work by Vijay,Vijendra prasad ji and the team. Best wishes.

— Prasoon Joshi (@prasoonjoshi_) September 8, 2021
from
asianetnews